The Food Record Diary (Paperback)
Created By SlimmersDiary

RRP £6.95
30% Discount, Introductory Offer,
£4.87
♥♥♥♥♥ Read Reviews


Maximise Your Slimming Success and Increase Your Weight Loss Today!
The first Slimming Diary of its kind! The Food Record Diary may help to significantly increase your weight loss whilst following a healthy eating, Slimming plan. Add a new, fun element into your daily Slimming routine today!
Stay in control with this 12 week food diary, meal planner, organiser, personal directory and record of achievements. Track, monitor and regulate your weight loss. Develop healthy, new, eating habits and routines. Stay focused, motivated, and inspired. Keep all your personal Slimming information in one neat, handy diary – no more losing scraps of paper! The diary fits perfectly into your Slimming packs, so you can take it with you anywhere and everywhere!
Recent health experts and researchers studies have proven that dieters who wrote down what they ate in a food diary doubled their weight loss, as opposed to the people that didn't. The participants in the study said keeping the diary required discipline and commitment, but the weight loss and health benefits made it worthwhile.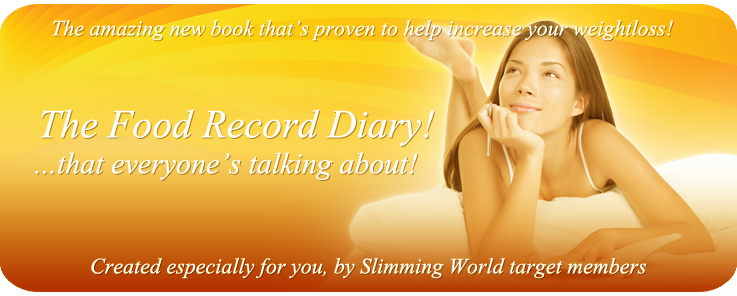 This unique, easy to use food record diary was created by successful Slimming World target members that had great success and increased weight loss by using the diary; they have now developed it to help other slimmers gain the same benefits. The diary is your own personal work book and diary to fill in, and should be used in conjunction with your own individual Slimming plan.
To read more information, view the diary`s internal contents and example pages of how to fill in your own diary, please visit The Food Record Diary pages on this website. To read reviews and testimonials from Slimmers that have already had great success through using The Food Record Diary, please click here.
Purchase your very own Food Record Diary today and see the Slimming results for yourself!
This book is only available through SlimmersDiary.
SlimmersDiary is in no way connected, affiliated or endorsed by Slimming World.